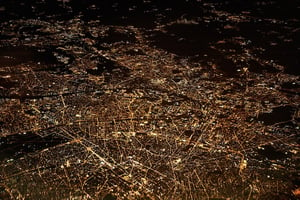 This is a guest blog post contributed by our partner DataVirtuality.
Big data is the key to success. While big data is not a new topic to talk about, many companies just start realizing its full potential and improving their data integration and analysis.
This is how you can beat your competitors by speeding up and serving customers and future customers according to their needs. You should transform your big data into smart data. And we will show you how.


To Transform Your Big Data Into Smart Data, Think of Your Data Integration First
Business users are not 100% satisfied with traditional solutions like a data warehouse. According to Gartner, the logical data warehouse is a significant revolution in data warehousing practices. Especially, when it comes to combining BIG data with traditional business data, a logical data warehouse is an efficient solution to integrate your data, access it in real-time or take a closer look at your historized data. In general, the logical data warehouse is a solution managing a company's data backend. According to Gartner, every company should evolve to a logical data warehouse approach to effectively access and manage their data.


Let's Have a Closer Look, What a Logical Data Warehouse is all About
As stated in a Gartner report "Understanding the Logical Data Warehouse: The Emerging Practice", a logical data warehouse has seven components:
Repository Management
The repository management provides cleaned data for a lot of users in your company environment.
Data Virtualization and Federation
The data virtualization and federation part provides the data exploration and rapid prototyping tooling for your business analysts. These can work with the data at a very high speed and sum them up to whatever combination needed.
Distributed Processes
The distributed processes section of a logical data warehouse can manage massive amounts of data. Usually you need the IT to take care of these processes. A data lake, a Hadoop or Spark cluster is usually the technology behind this distributed processing component.
Auditing Statistics and Performance Evaluation Services
Through the auditing statistics and performance evaluation services you can learn more about your logical data warehouse. With the DataVirtuality Logical Data Warehouse we added a unique self-learning optimization engine which learns on its own through the auditing statistics.
SLA Management
The SLA management combines part 1 to 3 of a logical data warehouse. The SLA requirement makes it possible to combine the repository, the data virtualization and the distributed processes in such an intelligent way, that your processes are 100% optimized. The SLA management is an important part of your 100% perfect data integration solution.
Metadata Management
This part of the logical data warehouse processes and manages the metadata.
Taxonomy/ Ontology Resolution
The taxonomy and ontology resolution layer works in close cooperation with the metadata management. This layer gives the users the possibility to create their own metadata which describe the business logic of their organization and the relationships within the data.


Let' sum up
A Logical Data Warehouse enables quick and flexible integration of multiple data sources into a data warehouse, without any manual Extract-Transform-Load (ETL) programming. Users can immediately see all connected data sources and quickly join and query all data sources with Structured Query Language (SQL). Additionally, the logical data warehouse self-learning, on-the-fly optimization engine significantly speeds up distributed query execution of large data sets while utilizing the customers own existing analytical database/s such as Amazon Redshift, Oracle, Vertica, Greenplum and others. The solution can be implemented on premise or in the cloud.
The advantages of a logical data warehouse are significant: Performance, agility and implementation/maintenance effort.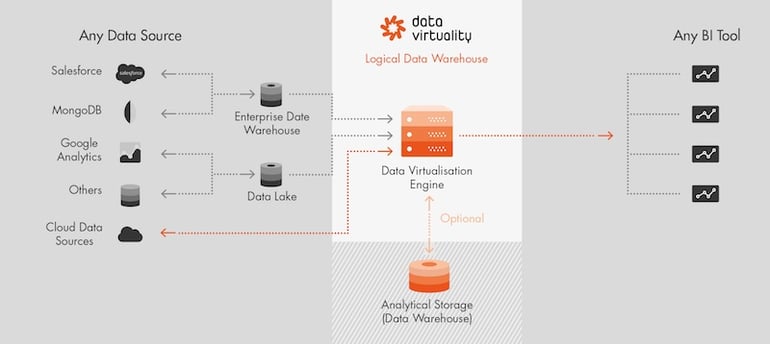 Time Makes a big Difference. Be Faster Than Your Competitors!
Set yourself apart and beat your competitors. Especially, when it comes to implementation and performance, a logical data warehouse is the key to your successful data integration. Implementing a logical data warehouse takes only one day for a complete setup. Furthermore, data integration saves a lot of time while querying data. Additionally, to the historized data, even real-time data is available for your daily analysis.
What are the alternatives?
Traditional data warehousing can be a very painful process, especially when it comes to adding new information types or performance management issues. On the one hand data federation alone offers flexibility, but can't scale. On the other hand, an analytical database management scales beautifully, but is pretty inflexible. The combination of both summarizes to the most efficient combination: regarding performance and flexibility. A more recent alternative is a data lake, which handles large amounts of data better than the traditional data warehouse. However, a data lake requires very significant IT effort to build and developer involvement to operate.
In general, both - the traditional data warehouse and the data lake - can also be built by IT engineers in your company. This process takes months, is prone to errors and distracts the engineering talent with no core competency tasks.


Want a Last Tip? Stay Agile!
Businesses can change within a couple of weeks or even in a couple of minutes. Especially, when it comes to growth targets your BI structure should stay flexible and be able to change according to your needs.


Flexible Data Integration is the key to a Successful BI Analysis
Flexibility is important. And imagine this: Even through two standardized tools like minubo and the DataVirtuality Logical Data Warehouse you can use a highly flexible and fast BI solution, that fits all your needs. The combination of minubo and DataVirtuality ensures that your smart data analytics is as flexible as you need it. The performance is very high while the implementation and maintenance effort stays low. By combining minubo and DataVirtuality you can work with a best of breed approach of a BI Commerce Solution.
In case you want to learn more about the best of breed approach minubo + DataVirtuality, read more on this website or visit www.datavirtuality.com


---
The Author

Dr. Nick Golovin – Founder & CEO at DataVirtuality
Before starting DataVirtuality, Nick spent more than 10 years doing data integration projects at international scale. He earned his Ph.D. at the University of Leipzig, Germany, where his research work was focused on data integration, data warehousing and machine learning.
---

You want to stay uptodate about the lates blog post or upcoming webinars? And you don't want to miss what's new with the minubo Analytics Cloud? That is no problem at all: