Read in German

---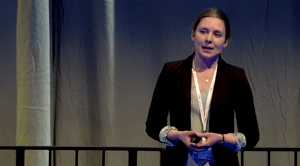 The Commerce Reporting Standard Initiative has set itself the task of enabling brands and retail companies to build a data-driven organizational structure. After all, hardly any retail company has a clearly defined system of key figures on the basis of which a sustainable reporting and analytics infrastructure can be built and ultimately a data-driven work culture can be established – this empty space is exactly what the initiative with their partner Project A focuses on and wants to fill with a Commerce Reporting Standard.
In her talk at the TrendArena at this year's Internet World Expo, Anne Golombek, VP Marketing at minubo and initiator of the Commerce Reporting Standard Initiative, commented on why a data-driven organizational structure is an absolute must, especially in today's competitive environment within the retail industry. Her hypothesis: Good trade concepts can be successful even with Amazon in the picture – this applies not only to trade companies that compete directly with Amazon, but also to building a strong market position in general.
Watch her talk here and find out how exactly this might look like and what role the Commerce Reporting Standard plays in this process.


+++ Unfortunately, the video is in German only +++
---
You want to stay informed about the progress of the Commerce Reporting Standard project? Please register for the newsletter.
Or do you want to stay up-to-date about minubo and the Commerce Intelligence Suite? Sign up for your monthly Commerce Insights Newsletter.