Read in German
---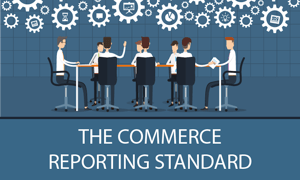 It's that time again! The next workshop of the Commerce Reporting Standard Initiative is just around the corner. This workshop focuses on the "Onsite Customer Journey Index", developed by project partner Akanoo.
The topic customer journey is omnipresent at the moment and every company talks about it. Nevertheless: For many commerce organizations it is still very difficult to make customer journeys measurable and controllable and thus to make data-driven decisions to optimize customer journeys.
As a specialist in onsite marketing intelligence, Akanoo has recognized this challenge and attempted to define workable KPIs to make customer journeys tangible and manageable – the result: The Onsite Customer Journey Index was developed.
This Onsite Customer Journey Index will be discussed at the next CRS workshop. In addition to questions on model premises, calculations and terminology, the focus is also on how the model can be used for strategic and operational applications.
Here a small insight into the KPI's of the Onsite Customer Jourey Index:
Landing to Basket: The first KPI is focusing on the phase between the customer's arrival on the page and the moment when he or she puts something in his or her basket.
Basket to Order:The second KPI is focusing on the phase from when the user puts something into his or her basket up to the moment when the order is placed.
Order to Check-Out:The third KPI is focusing on the phase between order and check-out, analyzing the phase after the actual order.
The calculation of these first three KPIs is based on known metrics. The time the user spends on the site, the number of pages the customer saw before, the number of all visitors and the percentage of all visitors returning to the site after a tab change.
Landing to Check-out:The fourth KPI is a combination of the first three KPIs – using average values of the performance of every single phase.
Return Rate: The fifth KPI is based on the amount of returns that the site is getting – that means: It's taking into consideration the amount of people coming back to the site in general.
Referral
The Customer Journey Index can also be extended by a sixth KPI if a company has integrated Omni-Channel-Marketing. This would show the links to the other channels through the click rate.


More background information on the Onsite Customer Journey Index can be found in the Commerce Reporting Standard blog.


---
You want to join in the discussion and learn more about the Onsite Customer Journey Index and its implementation or about a strategic partnership? Then take part in the upcoming workshop with Akanoo and the Commerce Reporting Standard!

Thursday, June 21st 2018, 10am –5pm
Friendsfactory Hamburg Hafencity
Am Sandtorkai 37, 20457 Hamburg


---
To stay informed about the progress of this project, please register for our newsletter.
For a personal discussion about the project, please contact co-initiator Anne-Katrin Böhme at anne@commerce-reporting.com.