Let's clarify one thing up front: Data Analytics is not just for the big ones. In particular, Medium-sized companies are increasingly concerned with making their data sustainable success drivers. Often, they are close to their customers, know them well and intuitively have a sense of their business. That's helpful, but not enough, because decisions about product line selection, marketing campaigns, or budgeting should be based on robust data. duschmeister.de is not only an absolute specialist when it comes to showers and baths, but also a genuine role model for data-driven work in small and medium-sized businesses.
For over 10 years, Managing Director Bernd Burmeister and his team have been offering a selection of over one million shower cubicle variants from renowned manufacturers. For this medium-sized company, in addition to providing service for the consulting-intensive products, quality is the top priority. To ensure this, Bernd Burmeister chose minubo's business intelligence solution. The Managing Director, who worked as Category Manager for Sanitary Equipment at Hagebau, has been at home in the corporate world for a long time, thereby learning how important data insights are and what opportunities are offered by a comprehensive database. It is therefore important for him as an entrepreneur not to rely solely on his gut feeling, but to make data-driven decisions.
Meanwhile, over 250,000 customers have experienced duschmeister.de. In his opinion, not only the big players, but especially the mid-tier should use data to get the full 360° business view. The eCommerce retailer sells nationwide through its own web shop and to a lesser extent through the marketplaces Amazon, ebay and ManoMano. Although the focus is on B2C sales, the niche provider has now also built up a broad B2B clientele - from hotels to craft businesses to public institutions.
In addition to the web shop and the connection to marketplaces, the ERP system is of central importance in the infrastructure of duschmeister.de. Bernd Burmeister decided to use Descartes pixi because the pixi processes are perfectly matched to all requirements that an eCommerce retailer is confronted with every day. Descartes pixi's great strengths are highly automated and scalable processes for warehousing and purchasing. But even the best storage solution does nothing without correct, data-based decisions and maximum transparency.
From its daily use, Descartes pixi supplies the necessary data about customers, orders, articles and suppliers via a standardized interface: minubo makes this practically usable, so that duschmeister.de can control all other processes efficiently in addition to purchasing.
To ensure a high level of transparency in the company and to find the latest results, Bernd Burmeister's daily look at minubo has become routine. In a dashboard, he gets all the data that is relevant to him – visualized and updated daily with one click. In order to achieve this, the data from the various systems (shop system, pixi ERP, web tracking, etc.) are integrated by minubo into a data warehouse, consolidated and made available for further analysis. It's about interpreting the data, making inferences and making fact-based decisions. He therefore defines special requirements for a reliable business intelligence solution:
Intuitive Usability
In large companies, there are separate departments that are responsible for providing the data. Small or medium-sized businesses often do not have one or more data scientists and often lack the experience with complex IT systems. Bernd Burmeister was looking for a pragmatic solution. Therefore, it was important to him to take the issue into his own hands and to realize the same data availability in his own company, which he knew from the past - and with the least manageable effort. "Even if there is valuable data in smaller companies, it is often not meaningfully linked and used. That may be because there are no, or hardly any, employees on the team who have the know-how to work data-driven. However, it is about getting a look not only at the macro level, but also at the micro level. "
Since real value creation from data only succeeds when working with data becomes a natural part of the daily work processes of all users, minubo offers a self-service BI solution for a broader user group. The clear design and easy-to-use interface make it easy for the user to intuitively navigate, report and analyze, and respond to new needs without having to work with the company's IT department.
Fast Results
Whether SMEs ultimately choose their own project or a purchased solution, when it comes to data management and analysis, one factor is always important: time-to-value. This indicates the time that elapses until the customer generates the first added value after signing the contract or starting the project. The expectations can of course be different here. For some, it is the acquisition of new customers, for others, an increase in sales. Since human resources and financial resources tend to be lower than in large companies, an agile technological setup should enable rapid testing and optimization of a productive environment to ensure a sustainable value-added solution. Through standard processes and best practices, minubo can be fully operational within a few days.
Growth
Another important criterion for the niche supplier is a BI solution that can grow and react with agility to the development of the company. The advantage of a cloud-based solution like minubo is, among other things, the saving of IT resources for operation and maintenance by dispensing with expensive and complex in-house software. No matter how fast a company grows: the data processing grows flexibility with it. And every additional improvement is immediately available to all customers. As a result, even SMEs benefit from the concentrated development work of a large BI department.
An Affordable and Complete Solution
"I can imagine that smaller companies initially have respect for a comprehensive and powerful business intelligence solution," says Bernd Burmeister. "At the same time, the company results for many are still a black box - sales are all well and good, but are these also profitable?" Only through the holistic view and concrete analysis can this question be answered. Companies benefit from a short payback period, despite the initial investment in purchasing a BI solution. For example, various measures can reduce the return rate, increase customer value or optimize the contribution margin.
For many SMEs, the leap into the BI world is huge but, in the future, inevitable if they want to gain a clear competitive advantage. On the basis of the data provided by minubo, duschmeister.de can identify optimization potentials, identify business opportunities and derive appropriate options for action in order to ultimately increase sales and profitability. minubo also helps you to develop a common roadmap and optimally support the business model with a suitable data strategy.
To watch the Webinar with Bernd Burmeister, Carolin Schwarz (Descartes pixi) and Lasse Klüver (minubo) click here. (in German only)
If you would like to try minubo on demo data, let us know, arrange a meeting and we will set up your free account.
A data expert will guide you through a demo shop and show you applications tailored to your requirements

See how you can create in-depth analyses, dashboards and reports with just a few clicks

Get your free 14-day trial access and put minubo through its paces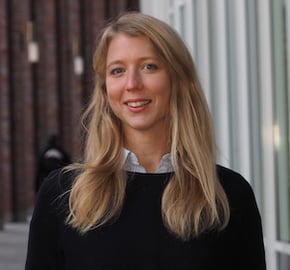 Lisa Wiedmann
Lisa is Digital Marketing Manager at minubo. Her passion for quality content on topics from the field of data-driven commerce and, in particular, on how minubo customers gain value from their data is what drives her to do a great job every day.