minubo draws on a strong network of established technology and agency partners because this is one of the most important building blocks for successfully meeting the increasingly demanding requirements of customers. Personal contact promotes cooperation. So, the opportunity was taken to spend a day with our closest partners, to deepen relationships and to develop new ideas. At the joint partner event, all guests had the opportunity to network with colleagues from the industry and exchange information with minubo experts on the latest product developments.
Not only did the beautiful location in the Hamburger and Germania Rowing Club offer several highlights, but so too did the exciting social events. minubo CEO Lennard Stoever and Partner Manager Lasse Klüver opened the day with an introduction to minubo and the Partner Program as well as a short excursion into embedded analytics, using the example of NewStore - how it works and how partners benefit from it.
emarsys, the world's largest independent marketing platform, is not only a longtime minubo technology partner, but also sponsored this year's event. Katrin Dias Assis, Senior Partnership Manager, was invited to be a speaker and presented their valuable collaboration in a concrete use case. The shared customer ZooRoyal, a company of the REWE Group, uses automated "next best offer" campaigns to increase sales. A White Paper with detailed information can be found here.
After a fabulous lunch with a view of the Alster, the interactive part continued. A "Pen & Paper" hackathon was about bundling the know-how and the experience of the guests to identify challenges in various areas such as marketing, omni-channel, operations and category management and to develop joint solutions.
In the afternoon, Michael vom Sondern - Head of Digital Development at tesa SE - gave an insight into the digital transformation of the company and how minubo specifically supports the enterprise in its day-to-day operations and strategic planning.
The digital agency hmmh, which positions itself as an expert for so-called Connected Commerce, was represented by Senior Consultant Adrian Berger and Data Analytics Consultant Björn Zierul MD. The minubo agency partner brought along two use cases in order to present the diverse opportunities for cooperation.
The evening was rounded off with a culinary highlight of a different kind - a cooking class and dinner together in the heart of the city, which offered another opportunity for exchange and networking in a relaxed atmosphere.
If you are a Technology, Marketing or Agency Partner, feel free to contact us to learn more about the collaboration and the partner program in detail.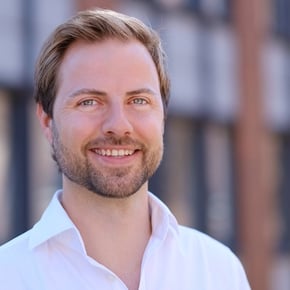 Lasse Klüver
Lasse is VP Sales and Partner Management at minubo. He loves to consult minubo customers and potential customers on how they can generate most value from minubo and the data-driven work culture they implement with it.