minubo wants to further expand its story of success and signs Marcus Diekmann as Brand Ambassador. Diekmann is a creative mind in digital retail, is probably one of the best-known industry experts in Germany and a minubo user himself, through his role as CEO of ROSE Bikes.
The Business Intelligence Solution is specialized for Retail, E-Commerce and Omni-Channel and enables companies such as Intersport, Betty Barclay, Avocadostore or tesa to use their data most effectively. Diekmann stands for KPI- and actionpoint-driven E-Commerce and therefore would like to share his experiences with minubo in public to highlight the increasing relevance of data-driven commerce: "ERP- and Shop-Systems are important prerequisite for successful E-Commerce, this is known, but ultimately success comes through numbers - only those who recognize fields of action can act dynamically and manage their business profitably. With minubo, I recognize my fields of action!"
In the future minubo will go one step further and develop a solution for the Omnichannel-Offline-Retail - the Store Monitor - an easy-to-use Tablet-App which also enables store employees to make better decisions based on data in their daily work.
"We clearly want to become the most important first party data strategy platform in Germany - that is why we did not only strengthen our team with Andreas Fischer (Co-Founder Modomoto) as Co-CEO, but now also brought Marcus Diekmann on board as brand ambassador", says Lennard Stoever, CEO minubo.
Diekmann's fee finances pro bono projects such as the "Händler helfen Händler"
Not only his commitment, also his compensation benefits the initiative "Händler helfen Händlern". With the initiative, the chief of ROSE Bikes, wants to point out the emergency situation in the retail sector, which has been prevalent since the Corona pandemic of 2020. He wants to inform affected businessmen and women and give them the chance to connect with each other.
"Marcus Diekmann knows how to develop the retail sector further and I am proud to win him as Brand Ambassador", says the minubo CEO. As a guest in the Datenkasper Podcast, Diekmann talks to Stoever about the success Story of ROSE Bikes, how the company has managed to become successful again by working data-driven, which KPIs are most relevant and which tools help ROSE to achieve this. The Episode is available on all platforms - Spotify, Apple Podcasts, Deezer and Co..
About Marcus Diekmann
Marcus Diekmann is a shareholder and member of the management board of ROSE Bikes. The 42-year-old has been active in digital commerce as a commercial analyst, strategist and creative mind since 2005. To this day, the disruptive retail expert advises companies on the digital transformation. Before joining Rose Bikes, Diekmann was Chief Digital Officer of Accell Group, the world's second largest bicycle manufacturer, and Director Digital, E-Commerce & Omni-Channel at Beter Bed Holding. Before Diekmann switched to the corporate side, he worked in the service sector for many years. He is one of the co-founders of the digital agency Shopmacher and the front-end UX consulting firm KOMMERZ (now Rose Digital). During the Corona crisis, Diekmann founded together with leading medium-sized retail companies the pro-bono initiative "Händler helfen Händlern", which awarded the ECR Award 2020 for exemplary cooperation around the alignment of the supply chain with consumer needs.
About "Händler helfen Händlern"
The pro-bono initiative "Händler helfen Händlern" was launched on 19 March 2020, when non-systemically relevant brick-and-mortar stores across Germany had to close their shop doors due to the Corona pandemic. To this end, leading medium-sized retail companies have created a group on the career platform LinkedIn, which informs and connects affected entrepreneurs. The group now has more than 4,000 members, including traders, trade and business associations, journalists and trade experts. Retailers such as Rose Bikes, MediaMarkt, Saturn, TomTailor and Intersport are supporting the initiative. "Händler helfen Händlern" was awarded the ECR Award 2020 "Helden der Stunde" by GS1 and PricewaterhouseCoopers in September 2020.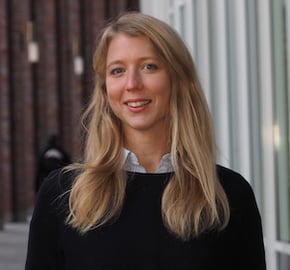 Lisa Wiedmann
Lisa is Digital Marketing Manager at minubo. Her passion for quality content on topics from the field of data-driven commerce and, in particular, on how minubo customers gain value from their data is what drives her to do a great job every day.