A successful cross-selling strategy not only helps retailers to increase sales per order, but is also a good way to increase customer loyalty. A key success factor for cross-selling is identifying the right product for the right customers at the right time. Looking at top-seller reports unfortunately is not enough. Although they give a good overview of sold articles, they do not show which products are bought together.
Targeted data analysis is therefore the basic prerequisite for identifying the cross-selling offers with the highest acceptance: How often is a product bought together with other products? When it comes to cross-selling, which other products are particularly frequently in the same shopping basket and what value contribution is generated with these additional products? The implementation of a cross-sell analysis (for example in Excel) requires time and the corresponding data know-how. To make it easier, minubo has developed a new analysis feature. From now on, you can create the cross-sell analysis with just a few clicks to answer all your questions and test your own hypotheses.
LOOK FORWARD TO A LOT OF FLEXIBILITY
Our aim is for you to gain even better data insights in the future and benefit from more flexibility and intuitive usability. To make this a reality, we are constantly developing our solution based on your feedback and best practices from e-commerce.
This quarter, it is all about the release of the new cross-sell analysis. With this you get ad-hoc insights into the composition of your customers' shopping baskets to better understand which items, brands (...) are bought together.
As with our other analysis features, we again attach great importance to flexibility in the configuration: You can flexibly define the shopping baskets (e.g. shopping baskets with one product of brand x or all shopping baskets with product y), as well as freely define the level of the cross-sell results (e.g. which brands / products or categories are in these shopping baskets). This allows you to answer many interesting questions: Which products are in shopping baskets with brand x? Which brands are in shopping baskets with product y?
For a better understanding, we have included a concrete example from our demo shop for you. In this example, we look at all the shopping baskets that contain our top seller "minubo Sneaker". At first glance, we can see that 65% of the orders have another product, which means that the sneakers are extremely often part of shopping baskets with other items. In addition, it can be seen that 21% of the order value is generated with the other additional products and these lead to 6% additional contribution margin.

*Click image to enlarge
To understand which products are also included in the shopping basket, the results can be viewed in detail with just one more click. Our example shows that the minubo T-shirt (17.3%), the minubo sweatpants (15.3%) and the minubo tank top (15%) are most frequently found in the shopping basket. But be careful! In the case of the sweatpants, a negative contribution margin can also be detected. Possibly an unprofitable business, where it is worthwhile to dive deeper into the details and research the cause.

*Click image to enlarge
The analysis can be carried out per shopping basket to understand which items are included in the relevant shopping baskets and how often. Or also per customer (or as minubo likes to say internally, "per wardrobe") to get deeper insights into which items are still bought by the relevant customers (e.g. who have already bought brand x).
You can find the analysis now and together with practical templates in minubo's library. We hope you are as excited as we are – now enjoy getting started with your analysis!
Do you have questions or feedback? Please let us know. Feel free to email us directly at: support@minubo.com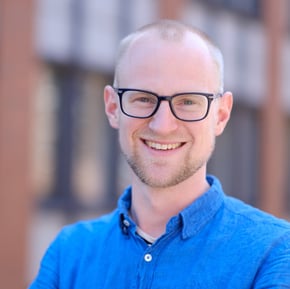 Robin Henke
Robin is Product Manager at minubo. He loves to share best practices on how minubo customers can get most out of their work with minubo.