According to a recent study, almost every second Swiss person knows the Amorana online shop for sex toys and lingerie. With more than 13,000 articles and well over 100,000 orders, this startup has grown into the largest sex-product-commerce company in Switzerland within five years. The founders, Lukas Speiser and Alan Frei, have their hands full. Between interviews, awards and the development of creative marketing concepts, the first pop-up store should open in October to boost their offline business. Amorana uses minubo Business Intelligence to keep track of all KPIs and metrics, and then make the best decisions on a data-driven basis.
Everything is Always in View, Without Manual Effort
Every morning, minubo automatically supplies Amorana with individually defined KPIs, for different comparison periods, simply visualized via a dashboard. Every user in the Swiss company can create any number of these for all imaginable roles and tasks. From there, they can simply drill down into the deeper analysis by clicking. Any abnormalities, opportunities or threats are intelligently recognized by the system itself and announced via an alerting system.
Holistic View Instead of Silo Thinking
As with many other companies, Amorana also had a variety of analysis tools for specific purposes where partial results could be displayed. However, the end-to-end view was always missing because the evaluation was limited to the one-dimensional perspective of each data source. Even if solutions such as Google Analytics provide an insight into the user behavior on the website, they never offer a holistic analysis.
This singular view leads to more silos and prevents different departments from communicating or collaborating with each other. And even each individual department has only a fraction of the really important data for itself, and on this basis they cannot make any decisions that might optimally promote the company's success and the achievement of common goals.
In minubo, on the contrary, transactional data in combination with customer and campaign data is automatically consolidated in one system for all users, linking the "one-dimensional" evaluation of individual activities into a holistic picture, thus enabling a comprehensive analysis. Because it is not only interesting to know in which way the customer gets to the order or how high the order value is, but also what happens after the purchase. Which product category leads to the most returns and why? How does the contribution margin and thus the profitability for individual products behave? How are new and existing customers progressing via the different channels? And how do I address the most important customers with content relevant to them in order to use marketing budgets efficiently and at the same time increase profitability? minubo delivers actionable insights to answer these questions and, based on the data, to further boost the pleasure business.
Shopping Cart Analysis, Individual Cross-Selling, Churn Prevention and Dynamic Customer Segments
In the future, the Swiss company wants to target its customers even more effectively with relevant products and increase sales and revenue with the help of up-selling and cross-selling. This starts with finding out which product combinations are increasingly being bought together. Once this is done, minubo also offers the possibility of creating flexible customer segments. These can be customer groups that have not made a purchase over a longer period of time, or who have a low return rate or a high contribution margin. These segments are automatically exported and integrated into other third-party systems (e.g., marketing tools).
To actively increase the Customer Lifetime Value of existing customers, buyers of the all-time bestseller "Womanizer", for example, can be offered targeted cross-selling offers in a campaign. Particularly in churn prevention and reactivation, next best offer campaigns can be used excellently. Customers who shop regularly but deviate from their individual behavior are automatically addressed with relevant product suggestions when they need it. Thus, not only can customer loyalty and process efficiency be increased, but also sales - through intelligent automation.
Self-Service with Excellent Support
And even though minubo users can access all relevant information on their own using 'self-service', there are occasional questions - with a data model that has over 600 attributes and metrics. "minubo offers incredible customer support you can count on. We always feel well looked after and with open questions or new requirements we are always well supported. That's how we can really use the full potential of a constantly growing self-service BI solution," says Amorana Co-Founder and CMO Alan Frei. Whether requirement analysis, use case definition or hands-on support, minubo helps its customers to realize their full potential and realize the vision of a data-driven company.
Got curious? Arrange a meeting and test minubo on demo data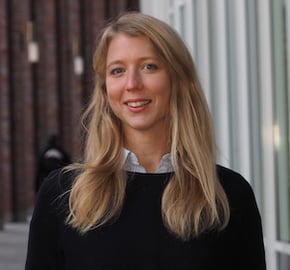 Lisa Wiedmann
Lisa is Digital Marketing Manager at minubo. Her passion for quality content on topics from the field of data-driven commerce and, in particular, on how minubo customers gain value from their data is what drives her to do a great job every day.