In Germany, there are many innovative and promising ideas and business models, but unfortunately there is often a lack of risk financiers or the provision of equity capital outside of government start-up grants. Unlike in Silicon Valley, for example, the American founders' Mecca, where investors pump record amounts into start-ups year after year, and where a founder-friendly "ecosystem" has emerged. What is missing in this country is the necessary impetus from an engaged private sector. For this reason, Deloitte has launched a competition that gives young companies greater visibility and at the same time provides them with a platform for cooperation, capital and customers - the Technology Fast 50 Awards.
The awards ceremony for this year's Technology Fast 50 Awards took place on November 7th. The winners were announced at a festive evening event at the Museum of Hamburg History. For the past seventeen years, Deloitte has been honoring the fastest-growing technology companies in Germany with this award. Meanwhile, the number of applications is over 150 companies and minubo can count this year to be one of the lucky 50 award winners. Jonas Christiansen (Business Development Manager) and Lisa Wiedmann (Digital Marketing Manager) received the award at the festive evening event. The rankings are based on the percentage of sales growth over the last four financial years [2015-2018]. In addition, in a second category, the Challenge Award was awarded for the first time, a special prize that is aimed particularly at start-ups and scale-ups who contribute their innovative technology to solving digital challenges in one or more of five innovation fields.
About Deloitte
Deloitte provides audit, risk advisory, tax advisory, financial advisory and consulting services to companies and institutions from all sectors of the economy. Legal advice is provided in Germany by Deloitte Legal. With a global network of member companies in more than 150 countries, Deloitte combines excellence with world-class performance to help clients solve their complex business challenges. Making an impact that matters - for approximately 286,000 Deloitte employees, this is both a common mission statement and an individual claim.
Deloitte refers to Deloitte Touche Tohmatsu Limited ("DTTL"), a "private company limited by guarantee" (according to British law), its network of member companies and their affiliates. DTTL and each of its member companies are legally autonomous and independent. DTTL (also called "Deloitte Global") does not provide services to clients. A more detailed description of DTTL and its member companies can be found at www.deloitte.com/en/UeberUns.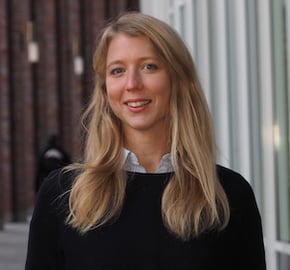 Lisa Wiedmann
Lisa is Digital Marketing Manager at minubo. Her passion for quality content on topics from the field of data-driven commerce and, in particular, on how minubo customers gain value from their data is what drives her to do a great job every day.