A recent study by the Business Application Research Center (BARC) looks at current and future challenges in delivering information and examines how companies plan to improve their enterprise reporting to take advantage of their data assets. The fact is, the need for data analytics and business intelligence is increasing. minubo offers a solution that - according to the study - meets the modern requirements for BI and reporting.
Frequently, companies make decisions that are not based on specific facts and figures. The main reasons for this, apart from data-related and organizational problems, are an evolved and mostly obsolete reporting structure. Traditional BI and reporting tools have often been developed with a strong IT-centric view rather than responding to user requests. In particular, with increasing complexity in the market and increasing data volume, the requirements for reporting systems are changing. Future solutions must ensure intuitive and user-friendly access to, and analysis of, data. They also require a high degree of agility and flexibility in the systems in order to be able to adapt continuously to the changing conditions.
It's crucial that companies update their data management and quality - but often they lack the budget, time, expertise, resources, or willingness to tackle the issue. Companies risk losing efficiency and revenue if decisions are not based on meaningful and forward-looking information about market trends, customer behavior, and product performance. With its philosophy and mission to extract added value from data, minubo takes a nearly identical approach to this latest 'The Future of Reporting' study, which is reflected in the study's key findings. These are presented below:
Flexibility in Using and Customizing Information is the Key to the Future of Reporting
Even though data usage requirements vary greatly in the different departments of a company, they all have one thing in common: provision of information must be user-oriented and flexible. This means that the individual departments have to be able to independently access, process and analyze information that is relevant and specific to them. 65% of respondents agree that the distributed content must be easily accessible and understandable.
In many cases, usage is currently failing due to the generalist approach of the tools provided. One possible solution approach is to provide self-service BI to a broader audience. This allows users to generate reports and analyses themselves and respond to new needs, without having to work with the company's IT department. Conclusion: Users need more flexibility in data navigation as well as customized content.
True value creation from data only succeeds if use cases and user needs are the focal point of consideration. minubo has taken this to heart and offers a self-service BI solution that supports the introduction of a data-driven work routine with daily updated and personal overview pages that have proactive insights and recommendations for action. All stakeholder groups can access the data and data tools that are relevant to them and create individual reports. For users with a strategic background (department management, management or investors), these are primarily tools that allow a quick, easy overview – for example, simple dashboarding or clickable monthly reports on your own business area.
For those who use an analytic approach (such as Accounting), flexible tools are usually important for complex, ad hoc, raw-level analysis. In the case of operational user groups (from category management to CRM), process orientation is the focus of attention. You have the option to create customer segments and so forth, which optimize the personalized customer approach (churn avoidance, customer reactivation and retention). The information can be retrieved in real-time and can additionally be shared with colleagues across departments at the click of a mouse. Employees no longer need to seek out the information they need from analysts in the huge data warehouse, but can retrieve it flexibly to respond to individual challenges and issues.
Modern Reporting Tools Must Focus on the Business Users in all Departments
Users and users of data analysis and reporting solutions need systems that are intuitive and easy to use. This starts with a modern, code-free frontend. Complicated tools that require (IT) expertise are out of place. After all, solutions for data analysis should not only help employees make strategic decisions, but also simplify daily work processes and make them more efficient. This requires BI content to be embedded directly into operational systems to support operational processes with information from other data sources. Technologies for increasing automation and efficiency as well as recommended actions are also important additions. In order to increase the flexibility in reporting, the respondents see the cloud as the next step - currently it is only used by 20% in the DACH area.
Hosted in a fully scalable cloud environment, minubo not only provides highly efficient data processing, but also high cost transparency, as well as saving resources for operations and maintenance by eliminating expensive and complex in-house software.
At the same time, minubo is completely web-based. This means that no separate software is needed to access information. Since real value creation from data succeeds only if the work with data becomes a natural part of the daily work processes of all users, simple usage is therefore the prerequisite to enable genuine self-service. The clear design and easy-to-use user interface make it easy for the user to navigate intuitively in minubo.
In addition, proactivity and automation are other important keywords: If information has to be compiled through elaborate analysis itself, the good intentions may be quickly thrown overboard again. Automated alerts that proactively inform about changes in relevant business metrics help deliver critical insights and respond to events in a timely manner. The same applies to the subject of automation: The possibility of being able to build intelligent customer segments in a BI solution does not necessarily mean that the user implements this as well. If the segments are, however, automatically transferred to a campaign tool, the motivation to exploit the potential of the BI database increases.
minubo has flexibly configurable interfaces to third-party operational systems (such as e-mail marketing or recommendation engines), from which the consolidated data can be automatically imported. This facilitates the process and offers the possibility to carry out targeted campaigns with relevant content for each target group.
Fact-based Decisions Require Reliable and Cleanly Managed Data
Higher data volumes mean a greater variety of channels, systems and sources from which the data comes. To ensure data quality, a modern and future-proof architecture concept as well as a uniform definition of key figures are required. Because only when companies manage to harmonize and clean up their data and ensure the delivery of accurate and relevant information can data serve as a sound basis for decision-making.
By implementing numerous retail use cases, minubo has a uniform definition of key figures. The unique commerce data model comprises more than 500 attributes and serves as the basis of all tools and unified communications - customized for any retailing organization, regardless of industry or business model.
In addition, minubo, in collaboration with Project A, has launched the "The Commerce Reporting Standard" initiative. The vision: By bundling best practices into one comprehensive data model, retailers should be able to provide a shortcut to a data-driven decision-making culture while enabling simpler industry benchmarking across a single industry standard.
To further increase data quality, validation ensures that the data from the various sources is robust, reliable and meaningful. One method of continuously improving quality is, for example, fuzzy matching algorithms. The aim is to be able to uniquely assign user data from different systems (in some cases entered manually). This means that erroneous or mismatched records from the different channels are cleaned up, standardized and consolidated, providing the company with a gapless database.
Targeted Action Derived From Data are the Holy Grail of BI
In the past, it has often been enough to have industry and market experience to develop a good gut feeling for your business. Those times are over, because data has long been the new currency in the business world. If you want to be competitive in the future and achieve economic success, you have to think "data-driven".
The goal should therefore be to establish a data-driven work culture throughout the company and to close the gaps in information provision. Not only in management, but also in lower positions, providing and easily accessing relevant data is a prerequisite for fact-based decision making. Executives play a crucial role in culturally anchoring the, perhaps new, data-driven mindset. Through transparent data analysis, central reporting and a data-driven work culture, companies can reposition themselves and thus expand their competitive advantage.
With minubo, all employees are able to extract action-relevant information via central work areas, to make their daily decisions better and faster on the basis of data, and to perfect their processes with data support. The "management by gut feeling" is therefore complemented as a whole, because the combination of rational, fact-based knowledge and many years of experience in the market environment and intuition is in most cases the key to success. Those who let a cross-company, data-driven decision-making and working culture become a reality are thus setting the course for more consistent corporate growth.
If you would like to learn more about minubo or test the solution yourself with demo data, then register here:
------------------------------------------------------------------------------------------------------------------------
This article is based on the results of the user study "The Future of Reporting". Created by BARC, an independent research and consulting institute, this study is available free of charge here thanks to the sponsorship of Cubeware. A short summary can be found here (in German only).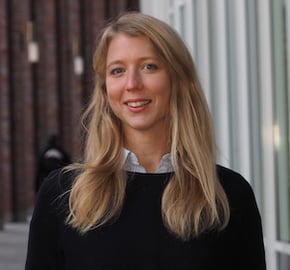 Lisa Wiedmann
Lisa is Digital Marketing Manager at minubo. Her passion for quality content on topics from the field of data-driven commerce and, in particular, on how minubo customers gain value from their data is what drives her to do a great job every day.