Read in German
---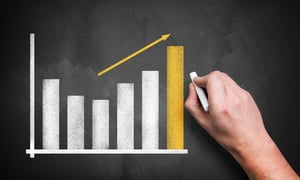 Apropos of the turn of the year, it is, as always, time to bring out the crystal ball and take a look into the future. Scenarios, changes, trends - what will happen in 2019? Everyone agrees on one development: Once again, this year will be characterized by data. Therefore, it is probably not a big surprise for many that this year's study "eCommerce Trends 2019" focuses on Business Intelligence (BI). The software company Divante again questioned 150 industry experts, analysts and managers about the most influential factors in the eCommerce industry this year. Nearly 40% of respondents see BI as a top investment in 2019, followed by CRM and big data, predicting greater investment by eCommerce managers in these areas.
Current developments in the field of BI
The increasing popularity of the Internet of Things (IoT), artificial intelligence and chatbots will not only deliver more, but also, more diverse and more accurate data. Especially in the eCom industry, the trend is increasingly towards interactive product visualizations, demo videos and 3D views. As a logical consequence, this "flood of data" and the associated possibility of data analysis are driving the growth of other segments, such as BI.
The decision-oriented collection, processing and visualization of business-relevant information from various data sources supports companies with individualized, fast, and at the same time, knowledge-based decision-making as well as intelligent process automation. And although BI is becoming more meaningful, sexier, and more individualized, and one might get the impression that business decisions are increasingly based on data, current statistics indicate otherwise. According to a study, on average, between 30-50% of merchants have little to no ability to access, consolidate, or qualify relevant data in order to generate sound metrics (eCommerce Trends 2019). This means that a large number of companies operate far below their actual potential.
Why are data-driven decisions becoming more important?
In the past, it has often been enough to develop a good gut feeling for your business. The ones who knew their way, were successful. Those times are over and the value of data is likely to increase over time. With increasing digitization and internationalization of the economy, the systematic, efficient analysis of data continues to gain importance. If you want to be competitive in the future and achieve economic success, you have to think "data-driven". Without the involvement of the various data sources, the information required for sound business decisions gets left behind, and even potential opportunities for success can go undetected.
On the other hand, through targeted data analysis, companies not only optimize their workflows, they are also better able to identify market opportunities, serve customers in a more targeted manner, and better track their inventories. BI platforms enable companies to make the most of their data and thus establish a sustainable, data-driven work culture: Employees from all areas - whether at headquarters or in the field, or with strategic or operational focus, or from category management or CRM – all become able to make their daily decisions better and faster based on data. Processes can be perfected in a data-aided way, thereby complementing "Management by gut feeling" or perhaps even replacing it altogether.
BI was ranked among the highest ROI investments (13%) in 2018 (eCommerce Trends 2019) and, over the next 5 years, data-driven analysis is seen as one of the most influential trends at the top significantly shaping the future of the market.
If you want to find out how to get real value out of your data and how minubo supports you, feel free to try our free demo.

---
Reference
Divante (2019) eCommerce Trends 2019 [Online] https://go.divante.co/ecommerce-trends-2019/?hsCtaTracking=00067105-7419-4437-865d-067aa8ccfcf1%7Cf4813b95-fa68-4233-a2dc-6c0186c13622 (Accessed 08.01.2019)