The Startup – Who or What is FarmTiger?
Until now, farmers had to buy their products from brick & mortar retailers. Often, they only had a small product range with non-transparent prices. Although farmers can find all products on the Internet, the various online retailers only serve niche offers, which inevitably leads to lengthy research, multiple orders from different providers and very inefficient processes.
That's over now: FarmTiger will be the partner where farmers can buy everything for their farm. The B2B online store wants to offer the largest selection of agricultural products at the best price in the future.Thanks to the uncomplicated ordering process and their own warehousing, high availability of their product range, and thus fast delivery, is possible. In other words, a completely advanced e-commerce shopping experience for every farmer.
But not only that, also in other parts of the company FarmTiger relies on modern approaches that have already established themselves in B2C. The startup is also an innovative pioneer and should be a role model for anyone pursuing a data-driven corporate strategy. A well thought-out data model and a clearly defined key figure system were used as early as the business planning stage. For the founders, Christian Zirz and Justus Timm, one thing was clear from the start: It pays off to start early - every company (regardless of its size) should be data-driven.
Investors have also been won over by the idea. Among the Business Angels are well-known names of the German e-commerce scene.
The Inside Story – What can you Expect?
FarmTiger is a startup. That means: there is nothing the company can build on. Everything has to be thought out anew and then implemented. The project is constantly changing and so will we as we accompany FarmTiger on its journey in the coming months – not on the sidelines but right in the game and up close.
We will interview the founders, employees, partners and other stakeholders at regular intervals, look over their shoulders and hit them with questions to find out everything about the basics for data-driven companies and those who want to become one – we will report honestly, authentically and unadorned about the project process, the successes, the challenges and problem management – all based on firsthand experience.
You will learn everything about building a data-driven corporate culture from day 1. What does it mean to be data-driven from the start and which considerations are important? Which systems are in use? Which data is used, how and where? What does the data infrastructure look like? Which key figures and KPIs are relevant for FarmTiger and why? What are the challenges and how can you overcome them? Be curious!
Overview of Episodes:
Episode 1: A Startup as Pioneer for Data-Driven work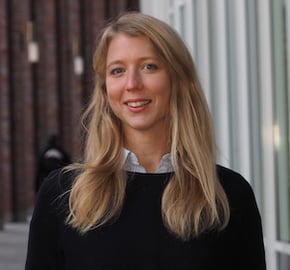 Lisa Wiedmann
Lisa is Digital Marketing Manager at minubo. Her passion for quality content on topics from the field of data-driven commerce and, in particular, on how minubo customers gain value from their data is what drives her to do a great job every day.