The new minubo Reports are compelling with even more flexibility and other great features.
Reporting tools are an important component when it comes to managing large amounts of data. To keep an eye on all relevant key figures and to make them easily accessible and quickly comprehensible for everyone, modern and agile reporting is mandatory. That is why we have made it our business to optimize our reporting tool based on specific use cases and feedback.
After developing and introducing the next generation of the minubo Dashboarding Tool at the beginning of the year, Reports is next. We are therefore pleased to introduce you to the new Reports Tool with which you can quickly and flexibly create extensive reports for yourself and other users.
What new report features can you expect?
To get you started quickly, we are releasing the new Reports with a library of preconfigured templates. From which you can freely choose from a selection of best practice templates. For your own applications, the Reports Tool also allows you to fill in the given layouts individually. Every user can create their own reports from scratch with just a few clicks and you can freely choose the comparison time periods, as well as key figures and attributes, from our comprehensive data model, at any time.
Of course, the reports can also be filtered flexibly. This not only gives you a structured overview, but also gives you the opportunity to look at other levels and dive into key figures in detail.
We would like to illustrate this specific added value using three different examples: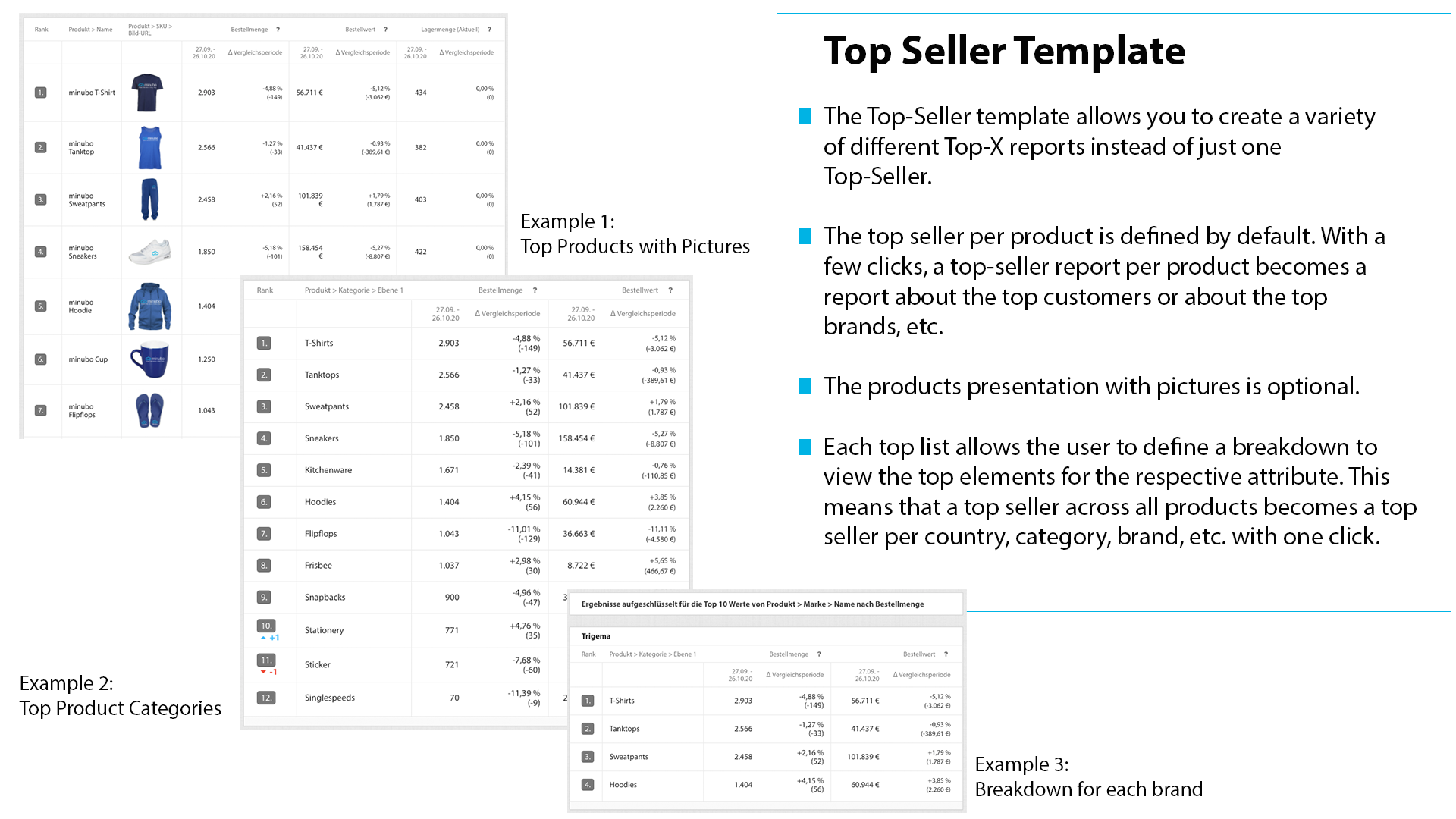 ---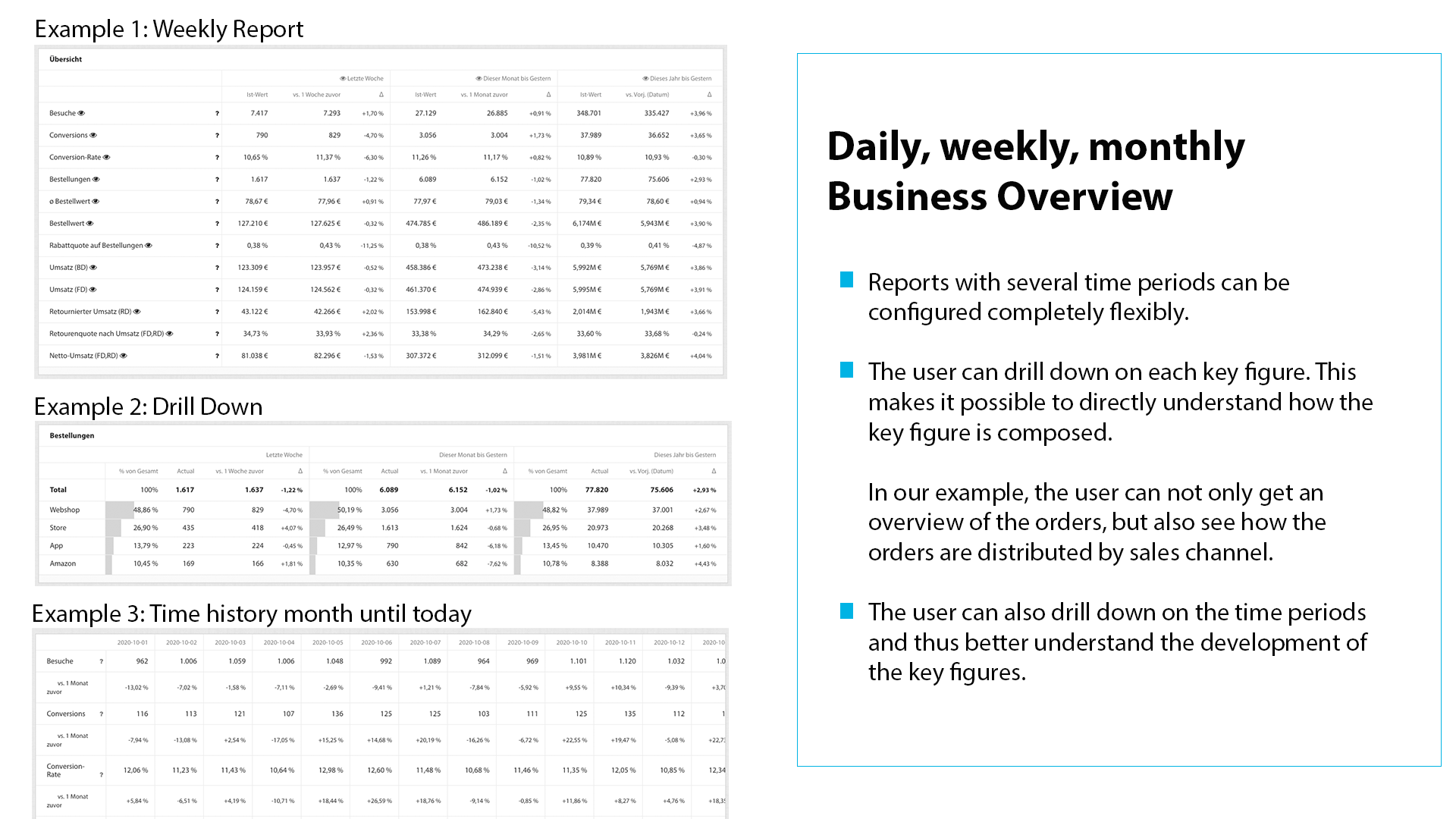 ---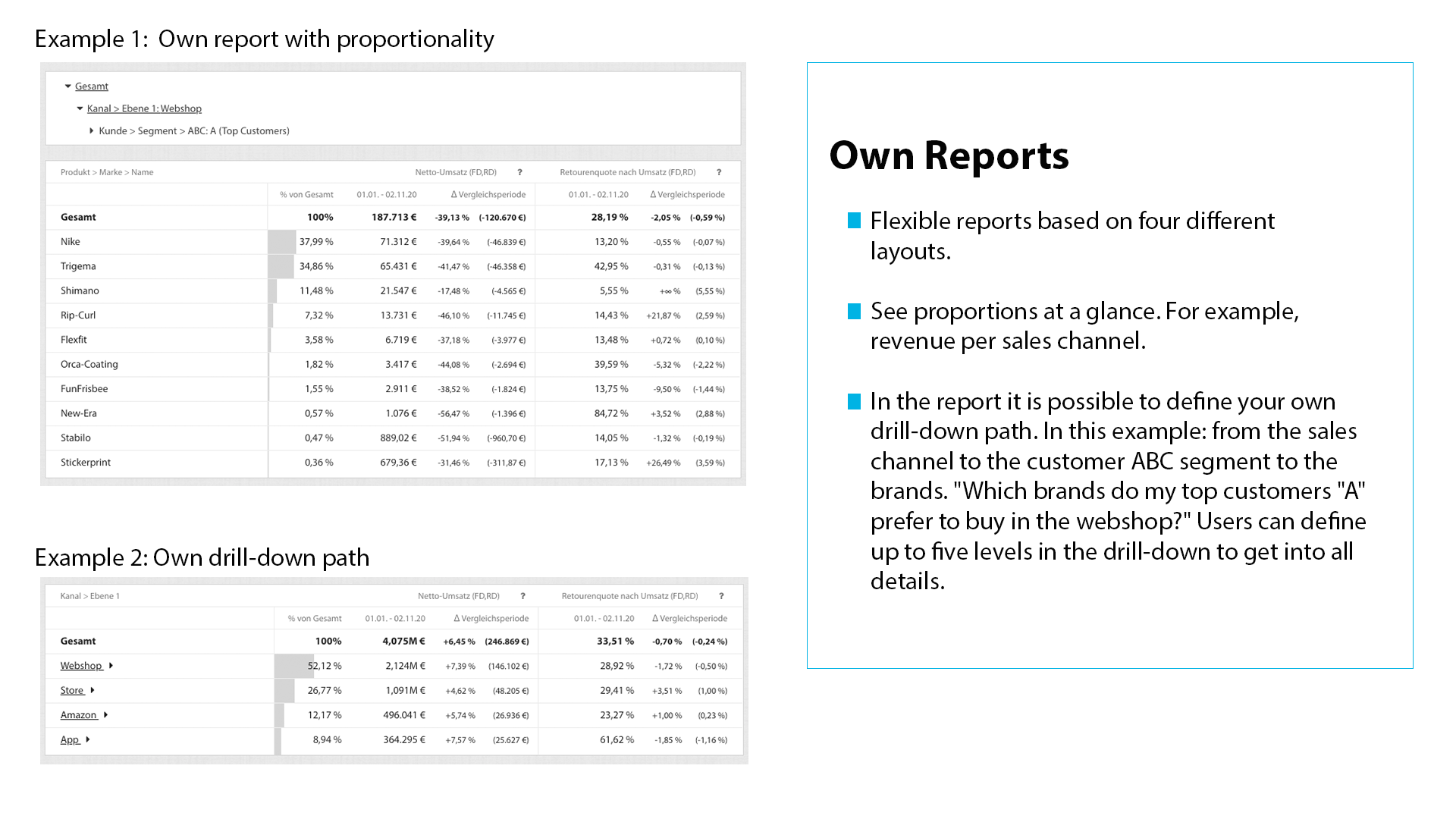 As in the past, you can export all reports in PDF format with just one click, or share selected information automatically via a dispatch plan, specifically with departments, colleagues or external partners.
Once again, all benefits are summarized here at a glance:
Every user can create their own reports with just a few clicks.

Get started quickly with customizable, predefined reports for important applications:

Top-Seller Report

Contribution Margin calculation by channel, category and many more

Daily, weekly, monthly business overview

Flexible, freely configurable layouts for key figure lists with several time comparisons, table reports and top lists.

As with all new minubo tools, based on the complete minubo data model: All key figures, attributes and filters can be freely selected.

Easy time and plan comparisons.

Automatic distribution at the requested interval by email in PDF format.
When will it start?
When the new reports are published, the migration process begins, at which point the old reports will be completely replaced. However, these will be available to you as usual until calendar week 4 of next year. Of course, we will accompany you through the process step by step.
All new features at a glance:
In the future, reports will no longer be defined for each minubo account; instead, each user can create their own reports for themselves and others.

There is a preconfigured template for all old existing reports. You can adapt your own report based on the template. Alternatively, a power user in your organization can create reports centrally for other users.

For all existing e-mail dispatch plans of old reports, we have created a dispatch plan based on one of the new reports and assigned it to one of your power users.

Up to calendar week 4, 2021, old and new reports can be opened in the application in parallel. Both the old and the new reports are sent.

After calendar week 4, 2021, the old reports will no longer be available in the application and their PDFs will no longer be sent.
If you have any further questions, feedback or suggestions, please contact your Key Account Manager or write directly to robin@minubo.com.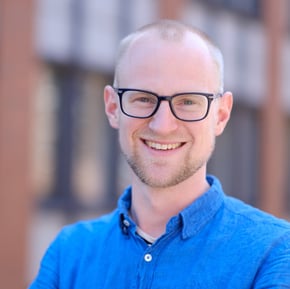 Robin Henke
Robin is Product Manager at minubo. He loves to share best practices on how minubo customers can get most out of their work with minubo.